Communicate hands-free
Get prioritized alarm and alert
notifications
Broadcast to groups
Initiate and join conference calls
Schedule reminders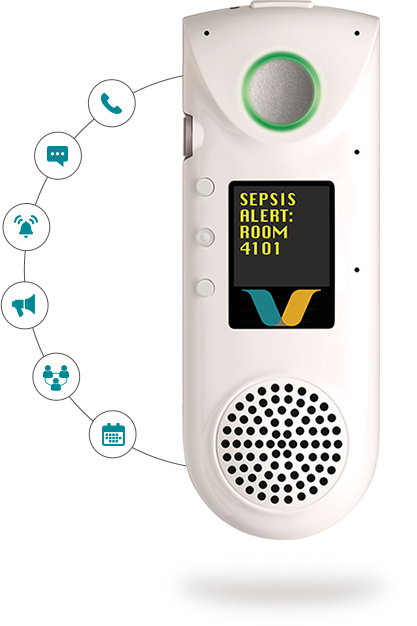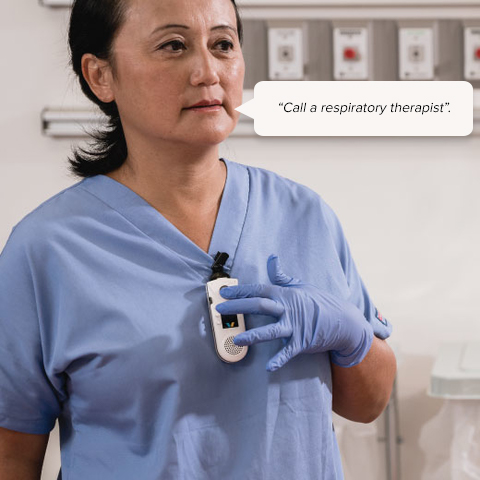 Remove obstacles to communication. An optimized speech-recognition engine responds to more than 100 commands.
Reach the Right Person Faster
Communicate in Real Time
Just press a button and say the name of a person, role, or group to reach the right person in the right place at the right time. Quickly locate colleagues and summon help in an emergency. Mobilize code teams immediately.
Now the EMS crews can call in and instantly reach someone in the emergency department. All they have to do is simply say 'emergency department,' and the Vocera system routes the call. The right staff member is waiting when the ambulance or helicopter arrives, and they are prepared with the patient′s vital stats in real time.

Shane McGuire, Chief Operations Officer at Columbia County Health System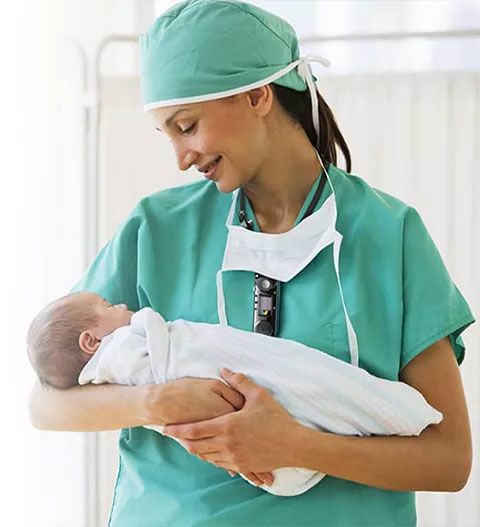 Significantly reduce ambient noise.
Reduce Noise
Provide a Quieter Environment for Healing
Use broadcast groups to communicate directly and without the noise of overhead paging. Help create a calmer environment for patients and families.

Every time I give a tour to the ED to anyone technical, they always tell me it is the quietest ED in the world. It is actually pleasant when you are there. You would never think that it is full when it actually is.

Tom Stafford, Vice President and CIO at Halifax Health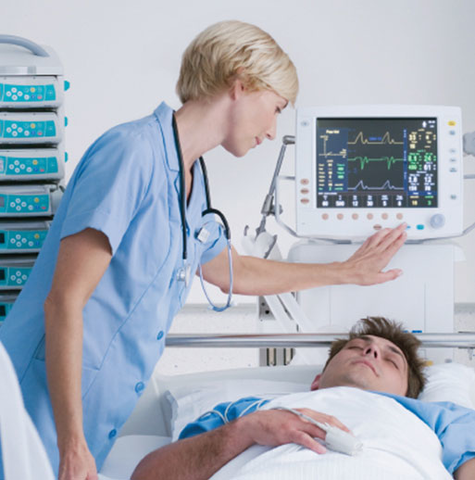 Communicate patient statistics and vital information without leaving the bedside.
Receive Prioritized Alarms and Alerts Instantly
Improve Responsiveness, Help Reduce Alarm Fatigue
Enable delivery of prioritized alarm and alert notifications directly to the right person at the right time.
Overall communication has improved tremendously. Call light response times are going down. Patient fall rates are down. We′ve reduced wait times for transfers and improved patient care across the board.

Stephanie Carpenter, Chief Nursing Officer at Columbia County Health System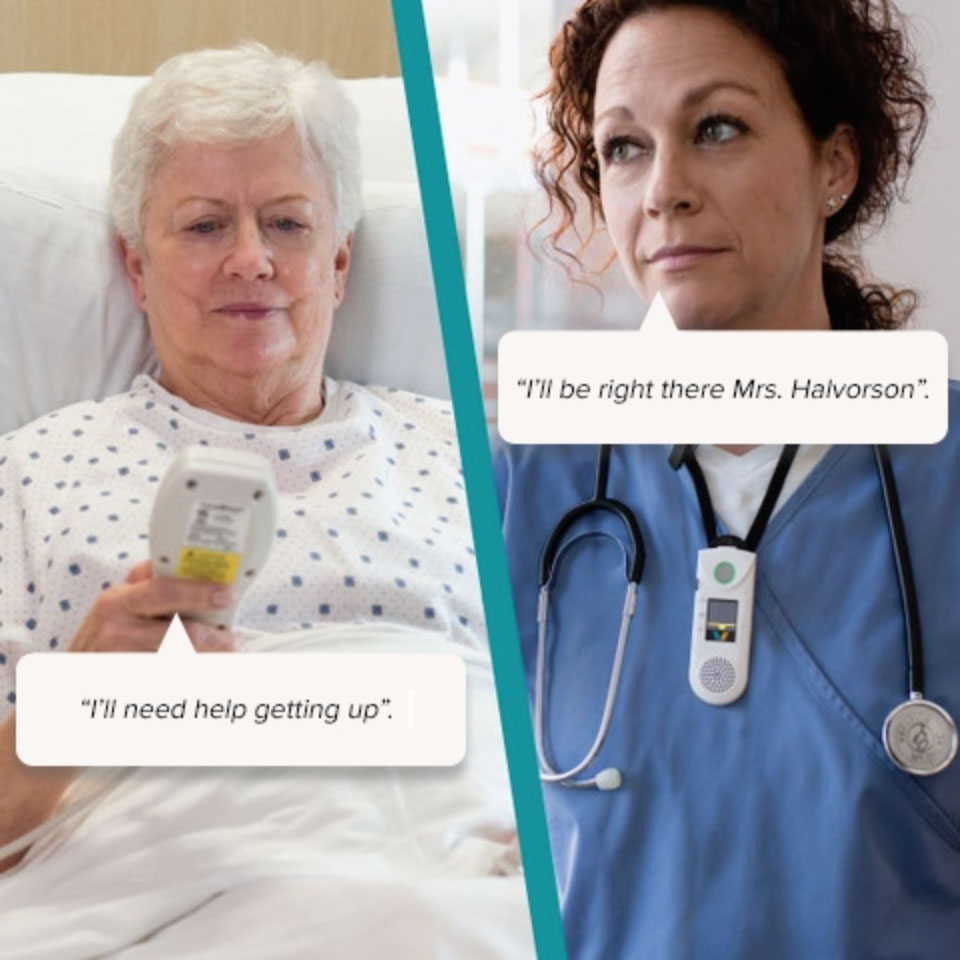 Caregivers and staff can reach help instantly, at the touch of a button.
Strengthen Patient Safety
Improve Alignment with The Joint Commission′s National Patient Safety Goals
Enable data to be aggregated from electronic health records and other systems and pushed to the right caregiver. Set reminders to evaluate pain and administer medications. Help prevent infection with antimicrobial technology. Summon help immediately.
The immediate response enabled by Vocera′s integration with the telemetry system is a game changer clinically, in my opinion. The nurse′s ability to initiate processes and call for backup immediately — as they′re placing lines or grabbing medication or doing critical procedures, without having to step out of the room — provides a level of control that′s currently unprecedented.

David Mitchell, Chief Nursing Officer for all of the Baptist Emergency Hospitals in San Antonio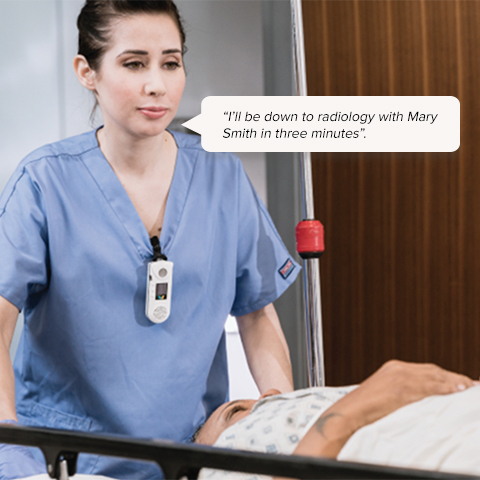 Dramatically reduce the time it takes to connect with a colleague and get a response.
Improve Throughput
Improve Patient Flow in the OR and ED
Streamline communication of bed status updates. Reduce delays, communication cycle length, and the number of communication transactions needed to get something done.
Let's say the admitting ward needs to tell an anesthesiologist that a patient's blood sugar results are out of whack, so anesthesia needs to be postponed or recalculated, which could impact the OR schedule for the whole day. Previously, that simple exchange might have taken 10 or 15 minutes, by the time the admitting clerk tracked down the anesthesiologist. With Vocera, the whole conversation can be completed well under a minute.

Bruce O'Donnell, Chief Nurse Anesthetist at Central Maine Medical Center